Report back of Ruth's activities over the last month
MP's Update for Brentford and Isleworth residents
July 2022
You can find previous reports of my work on my web site; www.ruthcadbury.org.uk I also report regularly on my Facebook page and via Twitter and Instagram @RuthCadbury.
You can see full details of my questions and speeches in Parliament, and get regular updates about my Parliamentary activities TheyWorkForYou (votes) in Hansard (speeches) and on YouTube.
If you would like to raise issues with me as your MP Please email on ruthcadburymp@parliament.uk with your address, a quick summary of the issue (and relevant reference numbers).
See my Web page for information on local and national services.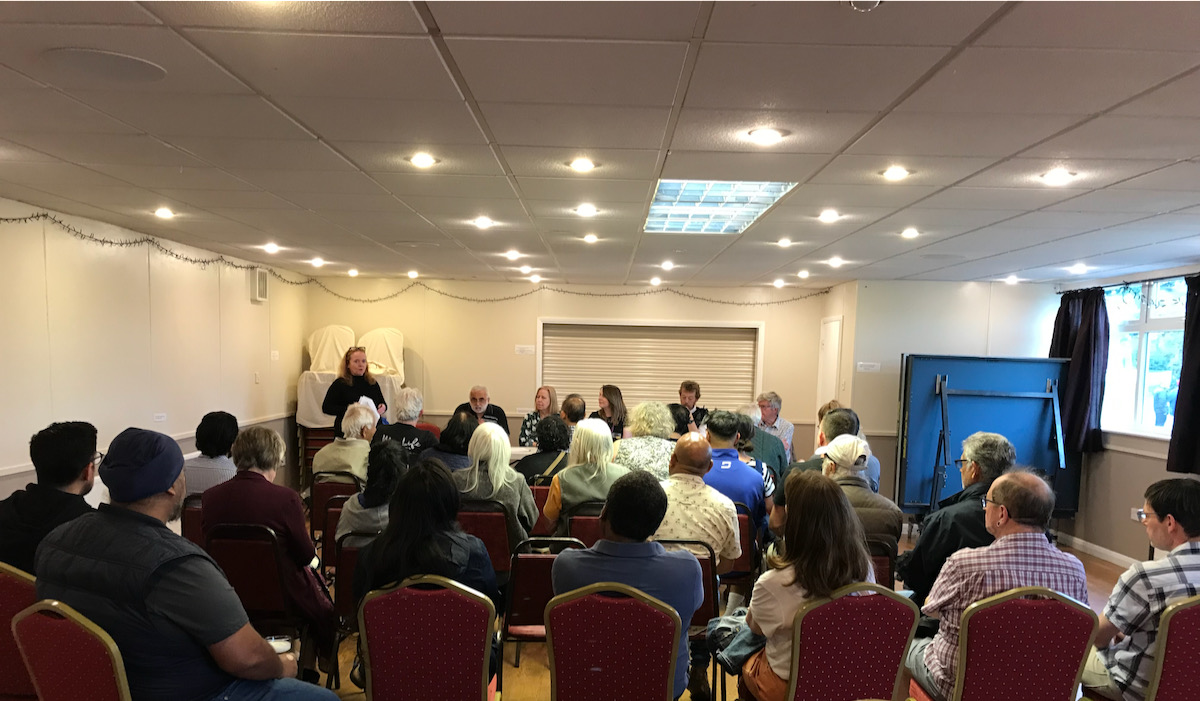 POLICING: Residents in a road in Osterley held a public meeting after suffering months of antisocial behaviour, drug dealing and assaults which came to a head with an arson attack. Councillors and local police have been working together to try to tackle the issue, but their efforts are hamstrung because there are just are not enough police officers to do regular patrols in hotspots. However they have managed to get temporary CCTV coverage.
In June I twice challenged the Policing Minister in the Chamber on the Tories' handling of Policing. A decade of cuts to Policing across the country has led to a loss of 20,000 police officers. With many experienced officers having left it now means that many residents feel unprotected.
The damming Inspection Report that put the Metropolitan Police Service into Special Measures was released in June. I welcomed the report and its recommendations given the appalling incidents of misogyny, racism, and plain inefficiency that we have grown sadly all too used to. Mayor Sadiq Khan gave Cressida Dick time to address the problems, but she left when there was no improvement. Despite the sense of public duty that thousands of London's police officers have, they have been let down by poor leadership, lack of resources and an acceptance of poor behaviour by a few of their colleagues.
However the Met is not unique in having serious challenges; five other forces in England are in special measures. Despite the sectarian attack the Government Minister, Kit Malthouse, made in the Chamber against London Mayor Sadiq Khan, four of those forces are led by Conservative elected Police Commissioners. Weaknesses in policing are a national problem and I challenged Kit Malthouse to back Labour's calls for a complete overhaul by the Home Office of police vetting, training, whistleblowing policies and misconduct proceedings.
MY PARLIAMENTARY ACTIVITY in June
At DWP questions I called on the Government to consider increasing direct support through universal credit to tackle the cost-of-living crisis

I also challenged the DWP Secretary, Terese Coffey about the cost of living, describing the feelings of an experienced NHS worker who was struggling to make ends meet despite being on a middling income

In a debate on the collapse of Football Index I described the experience of constituents who had lost thousands after investing in FI. Across the UK over £124 million was taken from customers. I urged the Government to improve the regulation for betting and financial firms to ensure that this never happens again

At the 2nd reading of the Levelling Up and Regeneration Bill I spoke up on behalf of residents' associations OWGRA and Brentford Voice who had said the Bill would allow the Government and developers to override local plans when applications for new developments are made

In the debate on Social Housing and Building Safety held 5 years since the Grenfell fire I warned the Government that the building safety crisis isn't over and many residents still face life-changing bills, are unable to sell their homes and face huge pressure on their mental health

The Environmental Audit Committee report on water regulator OFWAT's strategic priorities was brought to the House. I warned that water companies like Thames Water as well as the regulator, need to do more to clean up our waterways and to protect residents. I condemned Thames Water for dumping two billion litres of sewage into the Thames over two days, and the inadequate plans to address this

At Trade Questions, from the front bench, I called on the Government to reform the Energy Charter Treaty to remove the protections which allow fossil fuel companies to sue governments who try to decarbonise their economy

When the Government launched its report on the Private Rented Sector, I asked why a code of conduct for Letting Agents was not being considered

At Transport Questions I criticised the Government for removing the plug-in grant which lets residents get free access to electric vehicle parking. It's interesting to see that Norway is way ahead of the UK on the proportion of hybrid and EVs being used

I wrote to the Attorney General to follow up my question to her in May that she didn't answer on behalf of women with violent ex-partners who continue to be let down because the Police, Courts, Prison and Probation Services don't communicate with each other. Still waiting ….

I got a template response from the Government to my letter asking that outlawing transgender conversion therapy be included in the awaited Conversion Therapy Bill (an issue that the Prime Minister has u-turned several times on).

I'm also still waiting for a substantive response from South West Railways over the post-Covid timetable
| | |
| --- | --- |
| | The parliamentary Bike Ride was back for the first time after Covid; a wonderful opportunity for parliamentarians and people from the Active Travel world to meet up. We were hosted by the Dutch Embassy and their Church Centre in the City for the start, and rode Teir bikes along the mainly segregated cycle route to Westminster |
| | |
| --- | --- |
| | I hosted an event in Parliament for Vision Zero- the TFL campaign to end all deaths & serious injuries on London's roads. We heard from Mandy about her own personal experience after her daughter was killed on Brixton Hill. The UK has made progress in reducing the number of road deaths, but there is still so much more we can do- whether in the criminal justice system, or transport network. |
| | |
| --- | --- |
| | I joined disabled residents at the Sri Singh Sabha Gurdwara Culture and Diversity Celebration organised by Ashi Dhillon of Disability Network Hounslow |
| | |
| --- | --- |
| | The gates at the start of the Promenade to Dukes Meadows in Chiswick have recently been restored, with local children helping the blacksmiths and learning about this historic craft. Led by the Dukes Meadows Trust, funding for the project came from The Heritage of London Trust, the Ironmongers Company and Hounslow Council |
| | |
| --- | --- |
| | Wellington Day Centre in Hounslow celebrated the Queen's Platinum Jubilee with songs from the home country, sung beautifully by regular club members |
| | |
| --- | --- |
| | Borough Fire Commander Peter Clark briefed me about the London fire Brigade's Community Risk Management Plan which is open for consultation until the 25th July. The LFB want the views of local residents especially from those who don't normally get involved such as those living in housing estates, disabled people and those from black Asian and other minority communities. |
| | |
| --- | --- |
| | West Thames College's Awards evening was a truly inspiring event where the achievements of so many students was celebrated. I really valued how the awards went not necessarily for student with the highest marks, but to those who had overcome adversity, supported other students or made huge improvements in their studies during their course. |
| | |
| --- | --- |
| | Brentford Canal Festival celebrated Brentford's canal and river heritage, with water based activities, plus music and arts on three sunny venues around the town; a wonderful event organised by the Canal & River Trust and Brentford Voice |
If you need my support or help please email me: ruth@ruthcadbury.org, or phone: 020 8581 3646 or Write: Ruth Cadbury MP House of Commons, London SW1A 0AA. Let us have a quick summary of the issue, and include your address as I am only able to directly assist my constituents. Please also include relevant reference numbers.
I hold regular surgeries, usually on Fridays, which can be in person, on-line or by phone; please contact my office to make an appointment. However many issues can be dealt with more quickly by email or a phone call which saves waiting for the next available surgery.
For my Diary and Parliamentary Office email ruthcadburymp@parliament.uk 020 219 8590