Report back of Ruth's activities over the last month
MP's UPDATE FOR RESIDENTS
June 2022
You can find previous reports of my work on my web site; www.ruthcadbury.org.uk  I also report regularly on my Facebook page and via Twitter and Instagram @RuthCadbury.
You can see full details of my questions and speeches in Parliament, and get regular updates about my Parliamentary activities TheyWorkForYou (votes) in Hansard (speeches) and on YouTube.
MY PARLIAMENTARY ACTIVITY in MAY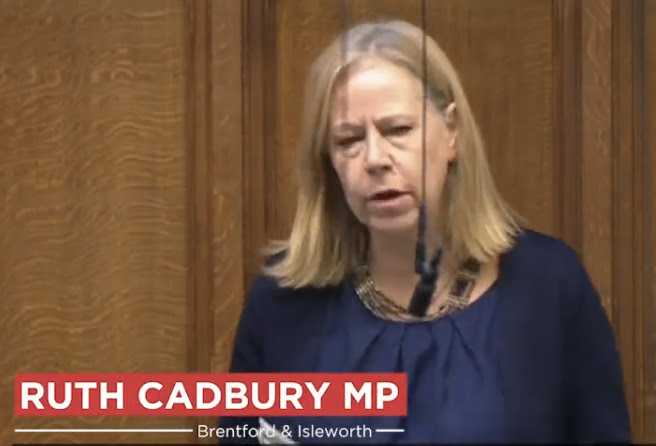 Following the Queens speech that starts each Parliamentary session there is always a debate. My speech focussed on the impact of 12 years of Conservative Government on schools; on funding, and then the added challenge of Covid, with chaotic decisions around lock-down, testing and exams, and the woeful lack of adequate catch-up funding
I also asked the Education Secretary, Nadhim Zahawi to finally allow Islamic compliant student loans, promised back in 2014 by David Cameron.  Too many local students are unable to go to university due to this delay.
I wrote to the Culture & Sport Secretary calling for the Government to urgently reform football governance to protect football clubs and ensure fans have a voice and a role in the running of clubs – in the way Brentford FC fans do. They  have a "golden vote" on the club's board, one of the few clubs where fans have a say at the top table. 
London MPs met representatives of London Councils and charities tasked with supporting arriving Ukrainian refugees.  I spoke of the concerns that senior managers at Hounslow have with dealing with the Home Office, with the Ukrainian refugees adding to the hundreds of Syrians, Afghans and others, many of whom are still languishing in local hotels.  In respect of visas, my team and I  have had some success in getting visas for Ukrainians and people are continuing to arrive locally, but we're still seeing long delays and not getting regular answers from the Home Office. 
I've had several constituents face ongoing harassment and threats of violence from their ex-partners, not helped by the CPS, the police, the courts and probation service not working together to support these women.  So I asked Attorney General Suella Braverman, about this problem at AG questions.  Unfortunately she responded with an answer to a completely different question, about the Government's rape strategy.
When the Chancellor brought his "Cost of Living" package to the Commons, I asked if he was still blocking the development of onshore wind turbines which would cut energy bills by £6 billion.  His answer was, frankly, ambiguous as the Government are still restricting new on-shore wind power generation.
I represented the Transport Committee at meetings of the Environmental Audit Committee challenging Ministers on their Aviation policies and their post COP26 actions; and at the Environment Food and Rural Affairs Committee on the Australia Trade Deal
| | |
| --- | --- |
| | Students at Bolder Academy designed my 2021 Christmas card, so I thanked them by giving them a tour around Parliament. |
I had previously written to TfL about overcrowding on the N9 Night bus after a constituent who works night shifts wrote to me. So it's good to report a 50% increase in frequency.  However, as TfL has not received adequate Government funding to cope with Covid losses, it looks as though inner London bus services will be cut.
| | |
| --- | --- |
| | Firefighters Memorial Day each year is our opportunity to remember and thank all those firefighters who have lost their lives in service. This year I had a chance to look around the Heston First station (in Isleworth) and thank the teams for the work they do on our behalf.  This means not only going out to emergencies, but a large amount of prevention work in homes, blocks of flats and workplaces. |
| | |
| --- | --- |
| | During Mental Health Awareness Week I visited the Salopian Garden on the London Road in Isleworth to meet their volunteers and also to meet with NHS staff and service users who work in the garden each week.  It was useful to understand just how important gardens are for good mental health. |
Artwork celebrating the Queen's Platinum Jubilee created by students from all of Chiswick's schools can be seen in shop windows across Chiswick, thanks to a project led by Karen Liebreich of Abundance London and Tanya Saunders of Chiswick art club Make + Paint with support from Hounslow Council.  I went to the launch event and saw these Plasticine cute corgis trapped in a cake stand (made by students at Chiswick school)
| | |
| --- | --- |
| | Hounslow Jobcentre Plus now serves the whole of the borough (apart from Chiswick) from their newly extended base in the Treaty Centre off Hounslow High Street.  I met managers and job coaches to learn how they are addressing the explosion of vacancies in West London by supporting unemployed people back onto work, and helping those on low wages and claiming UC get better paid work.  I also learned they have funds to support people with childcare costs, and getting good clothes for job interviews. Sadly the staff don't have the power to deal with the fundamental failures of Universal Credit; paid 5 weeks in arears, and when it does arrive it's just too little to live on thanks to our Government. |
| | |
| --- | --- |
| | I had a chance to visit the Griffin Brewery, now owned by Asahi, but still brewing beer for Fullers' pubs.  They've produced a special Queens Platinum Jubilee beer, which of course I had to "pull" and taste! |
| | |
| --- | --- |
| | It was very sad to say goodbye to former Brentford Councillor, Myra Savin who served on the Council from 2014-18 following a successful career as a manager with the NHS.  Myra had a wonderful sense of humour but also cared deeply about improving people's lives through change in our community.  She was taken from us too soon and is deeply missed. |
May saw the Prime Minister continue to trash the reputation of his Government, our Parliament, and our country, and lead our economy into one of the least successful of any of the OECD nations. Meanwhile, the cost of living hits yet more people whose daily lives are dominated by serious financial worries. 
But June had a more cheerful start with four days celebrating the Queen's Platinum Jubilee.  Over 70 years her commitment to our country and its people has been unwavering.  As Keir Starmer said, - she has improved our country's reputation around the world, and stood with us at home, through good times and bad. 

Whilst the weekend had lots of pomp and pageant to see on TV or by going into central London, more locally we had numerous parties in the streets and parks.  It was wonderful to see people meeting close neighbours, often for the first time and grateful thanks are due to those who volunteered their time to make them possible, and who raised funds for great charities.  Here are a few of my photos of the events I went to in Chiswick, Brentford and Isleworth, with more to come in Hounslow in the coming weeks.
MY PARLIAMENTARY ACTIVITY in April
Rising Costs for Local Residents Living in Flats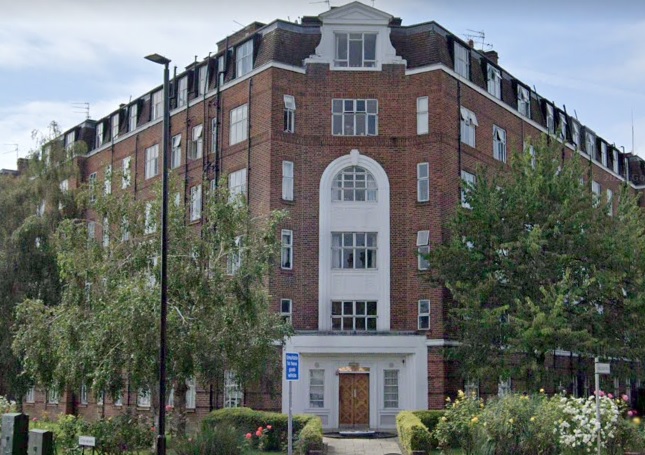 Constituents who live in blocks of flats with a communal heating system contacted me to say their flats are not covered by the energy price cap which meant they are seeing an increase in energy bills of over 100%. This is in excess of the still massive price rises that so many are experiencing. I wrote to the Government asking for this loophole to be fixed so that residents are protected. The Minister replied to say the Government is looking at legislation but gave no time promise. I will keep pushing on this issue.
Many of my constituents live in "Shared Ownership" flats where they part rent and part own the property (the rest is owned by a Housing Association). I challenged the Government in the Chamber on the triple whammy of rising costs they face over which they have little control: rents, services charges, and mortgage costs.
Ukraine: I spoke in the lengthy debate about Ukraine and started by praising the work of Chiswick School and others locally in sending donations and opening their homes up for Ukrainians. Hounslow is the UK borough with the third largest number of Ukrainian-born residents at the 2021 census so many arriving come on family visas. I spoke about the personal impact the war had on constituents and their families, but also how the welcome offered by the UK to fleeing Ukrainians contrasts sharply to the open arrangements offered by most European countries.
Many constituents have offered to host fleeing Ukrainian families yet are still waiting for their "guests" to get the requisite visas. Too often one member of the family, often a child, doesn't get a visa so the family cannot flee Ukraine or remain in limbo in places like station platforms in Poland.
I also expressed concern that with the informal linking up of host and refugees through Facebook, women are potentially vulnerable to sex abusers and trafficking gangs so I urged the Government to play a matching role between hosts and refugees. Finally, I called on the Refugees Minister to address the inconsistency in the schemes for Ukrainians arriving in the UK whereby those with close family already here and coming under the Families scheme are ineligible for the Homes for Ukraine hosting scheme. If the home of their sponsor family members is too small, these refugees are having to declare themselves homeless and add to the already large pressure on housing. The Homes for Ukraine scheme should be available to these refugees too.
And don't get me started on the inability of the Home Office, yet again, to run a half-way competent immigration service; both for Ukrainians fleeing Putin's invasion, but those fleeing terror elsewhere. There are massive inconsistencies in the different immigration routes depending on the country of origin and the Home Office Immigration Service has all but ground to a halt. So many of those fleeing terror in Syria, Afghanistan and other countries are still in limbo, still in cramped hotel rooms with £8 per WEEK to spend on everything other than meagre food rations. But then why am I surprised, given this is the Home Office willing to outsource our duties to legitimate asylum seekers to Rwanda.....
Many constituents are experiencing delays in receiving new or renewed passports and are missing holidays and starting jobs, so I spoke about the delays in the Passport Office and the impact this is having on people.

In Trade Questions I called on the UK to do more to protect workers' rights in trade deals. I mentioned that 22 trade unionists had been killed in Colombia and that the UK had failed to put binding mechanisms in a number of trade deals and demanded the Government include the protection of workers and trade unionists in future trade deals.
I wrote to Equalities Secretary Liz Truss calling for the Government to outlaw LGBT+ conversion therapy- including for transgender people. I had around 100 emails from constituents who opposed the decision to exclude trans people from a ban.
Bowel Cancer is one of many cancers that, when caught early, is treatable. So do use that kit when you get sent it!

 

With a family member who did this, and got early and effective treatment, I was happy to support Bowel Cancer UK with their publicity in April.
Osterley Tesco: Constituents contacted me about the number of catalytic converter thefts from cars in the car park at Osterley Tescos. I wrote to Tesco's Head Office to express concern that there was no effective CCTV at the store. I have now been contacted by constituents about the removal of most of the staffed tills at the store, which means that older and disabled people who cannot use the self-service tills are having to stand in long queues at busy periods. You can sign their petition here.
| | |
| --- | --- |
| | During the holy month of Ramadan, the Muslim community host a number of community Iftaar (breaking of the fast) events; including that hosted by the Bangladesh Welfare Association event that I attended in Hounslow. |
Hogarth Youth & Community Centre in Chiswick

has supported at least two generations of Chiswick's young people and the need for their services continues, particularly for teenagers at risk of getting caught up in gang activities and young people whose families cannot afford the many private after-school and holiday activities now on offer in W4. I met the staff, long-standing youth worker Denny, fundraiser Danni, and Trust Chair Fred Lucas. They told me that Government cuts to

Council funding means Hounslow is unable to fund the youth work adequately, so the trustees have a challenging job in raising the £70,000 gap between the income from room lettings and the costs of running the centre. If you can help in any way; hogarthtrust.org.uk
| | |
| --- | --- |
| | The regular Mogden Residents Liaison meeting with Thames Water has become a repetitive demand from me and Councillors for TW's inquiry into the causes of the sewage flood in February 2021 to get underway. This caused much damage but could have been worse had it not been for the quick thinking of two local residents who opened the sluice gates that were holding back the flow in the Duke of Northumberland River that meant gardens and even homes in Isleworth were inundated with sewage. |
| | |
| --- | --- |
| | Thames River Path: It's good to see that work has started on the cantilevered walkway under Barnes rail bridge, a project driven by Hounslow Council that will enhance the level-access walkway along the Middlesex bank of the Thames. Further up the river I am pushing the Council to get on with the (much cheaper) opening of the unused archway under Key Bridge. This has been an ongoing campaign by Strand-on- the-Green Association and local Councillors. When both are complete there will be no awkward steps or dog-legs for anyone walking along the Thames through Chiswick and to Brentford. |
| | |
| --- | --- |
| | Open Kitchen Hounslow continues to serve a pack of a hot meal and other food to all who turn up, no referrals are necessary. During Ramadan they were busier than ever, providing Iftaar meals to the many Syrian, Afghan and other families "living" in local hotels while they wait for immigration decisions. I was glad to join the volunteer team, and help with the work at their A4/Jersey Road base. |
Hounslow Shelter Project, pre-Covid, provided a meal, a night's sleep and support to homeless men through the winter months over several years. Around 14 local churches took it in turns to host a night, but due to Government Covid rules, they had to close the Shelters in March 2020. Updated standards now require each guest to have privacy, something our local churches cannot provide, so a new direction is planned. At the project's thanksgiving service, organisers told me they are going to open a drop-in centre for lonely and vulnerable people including the homeless, those under threat of homelessness and the newly housed. They will be offering free refreshments, a friendly chat and referral to someone or an agency who could help them further. The 'pilot' drop-in centre will open at Hounslow Methodist Church for two months starting in May, during the evening.
| | |
| --- | --- |
| | Hounslow Covid Quilt During lockdown a group of local women made this incredible quilt – with each panel representing some aspect of the lows, and highs, of the Pandemic and how it affected local people. I met Priti Mehta at Hounslow House who told me they hope it can be displayed around the borough in the coming months and years. |
| | |
| --- | --- |
| | I could use this update to say a lot on my views of this appalling Government, led by the worst Prime Minister this country has ever had. But you have had your fill of all that from the news over the past month. So I will just leave you with this graph – IMF figures. |
If you need my support or help please email me: ruth@ruthcadbury.org, or phone: 020 8581 3646 or Write: Ruth Cadbury MP House of Commons, London SW1A 0AA. Let us have a quick summary of the issue,  and include your address as I am only able to directly assist my constituents.  Please also include relevant reference numbers.
I hold regular surgeries, usually on Fridays, which can be in person, on-line or by phone; please contact my office to make an appointment. However many issues can be dealt with more quickly by email or a phone call which saves waiting for the next available surgery.
For my Diary and Parliamentary Office email ruthcadburymp@parliament.uk 020 219 8590
Printed from an email sent by Ruth Cadbury MP {domain.address}