Report back of Ruth's activities over the last month
| | |
| --- | --- |
| | MP's UPDATE FOR BRENTFORD AND ISLEWORTH RESIDENTS November 2022 |
You can find previous reports of my work on my web site; www.ruthcadbury.org.uk  I also report regularly on my Facebook page and via Twitter and Instagram @RuthCadbury.
You can see full details of my questions and speeches in Parliament, and get regular updates about my Parliamentary activities TheyWorkForYou (votes) in Hansard (speeches) and on YouTube.
If you would like to raise issues with me as your MP Please email on ruthcadburymp@parliament.uk with your address, a quick summary of the issue (and relevant reference numbers).   
See my Web page for information on local and national services.
So now we're on the third Prime Minister in three months and I've lost track of the various Ministers I've dealt with over recent weeks.  The previous two PMs left the country and my constituents worse off than their predecessors, and Sunak looks to be no better.  Rather than being on the side of working people he boasted that he personally ensured that money was moved away from deprived areas to wealth places.  Instead of the Conservative party's revolving door of chaos, the British people need an election and the chance to compare the Tory's 12 years of failure with Labour's plans to rebuild the country for a fairer, greener future. 
MY PARLIAMENTARY ACTIVITY in SEPTEMBER
On the rising threats by the regime in Iran, I asked the Foreign Office Minister how the UK is building relationships with civil society in Iran as these people may go on to lead the country. I got a fairly positive, but unspecific response.  At a second Urgent Question session I asked whether the Government would remove study visas from the family members of regime members living here far from the restrictions in Iran, and particularly those imposed on women. Again, nothing specific in response, but you never know!
A debate on Sewage Discharges enabled me to express horror at Thames Water's continued pollution of the Thames, and condemned the failures of the Government, OFWAT and the water companies in addressing this growing national problem.
I led for Labour on a debate about the lack of opportunity for Scrutiny of Trade Deals by Parliament and stakeholders. Climate change, animal welfare and human rights issues, not to mention the impact on UK businesses, are all essential issues in trade negotiations which mean trade deals need adequate scrutiny throughout the process.  I said this Government fails to strike ambitious trade deals that support British business, British values and economic growth here. 
London by-laws mean there is a default ban on 'pavement parking', and I know it works. MPs and Council across the rest of England have long demanded a similar law, and I challenged the Transport Secretary to deliver a plan. "When Parliamentary time allows" was the response.
Local councils such as Hounslow have a statutory duty to assess and care for unaccompanied asylum-seeking children placed in local hotels by the Home Office. Many of these children are clearly 13 or 14 years old, and on one day alone 72 arrived in hotels in the borough. I asked the Levelling Up Housing and Communities Minister what meetings he had had with affected boroughs about the additional support they need to meet their statutory duty to these vulnerable children.
I wrote to the Health Minister about prescriptions for gluten free foods being removed from the NHS lists, after a constituent with a severely gluten-intolerant child wrote to me.
Constituents from Armenia are increasingly concerned about the conflict with Azerbaijan, so I wrote to the FCDO on their behalf.
Ongoing issues on the Hounslow loop line led me to write to Network Rail about ongoing engineering work and the disruption it is causing.
Over 100 constituents wrote to me concerned about the Government's plan to sell Channel 4, so I demanded a rethink from the Culture Secretary – which seems to have worked!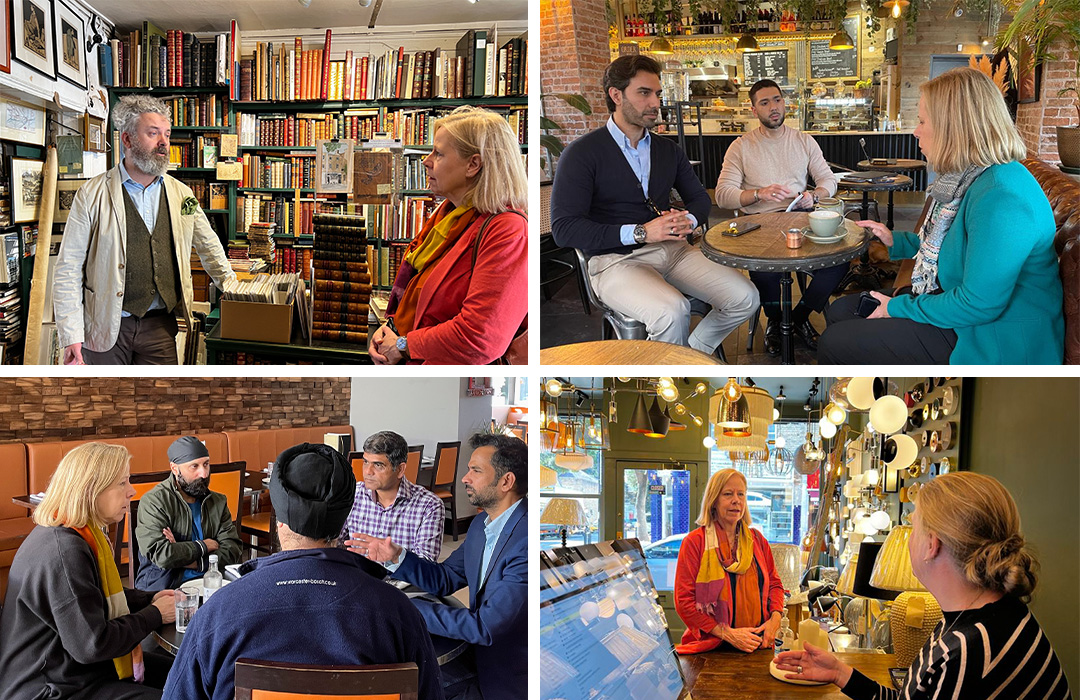 SMEs (small and medium sized enterprises) make up over 99% of UK businesses, three fifths of employment and around half of turnover in the UK private sector.  Over the month I met local independent businesses in Chiswick, Brentford and Isleworth to hear first-hand about the challenges they face.  Most are still getting over the disruption and downturn of Covid, and now face pressures from rising costs and a downturn in custom as the cost of living affects customers.  Those in catering are seeing food prices rising 40%, energy up 70%.  Many businesses struggle with finding enough staff with appropriate skills.  Businesses such as printers, and lighting and plumbing supplies are finding that guaranteeing supplies for specialist items is full of uncertainty. For some, Covid loans still need to be paid back and any defaults lead to high interest charges. 
The common messages from these businesses that I can now raise in Parliament are; Business Rates need to be replaced with a fairer system and VAT needs reforming. The Government needs to provide certainty over energy costs beyond next year and the shortage of skilled staff needs addressing.
Many thanks to Chiswick Lighting, Fosters Bookshop, Chiswick Gift Company, Feather & Heart, Elvis & Ivy, Snackeroonys, Vanilla Moon and ColourZone, and finally Shameen at Cinnamon Lounge who brought four business-owning friends along.
| | |
| --- | --- |
| | Mogden Sewage Treatment Works and Sewage Discharges:  Along with Councillors and residents' groups I attended the regular liaison meeting with Thames Water. We all had serious concerns that Thames Water will continue to discharge dilute sewage into the Thames every time it rains heavily for many years to come. I've spoken several times in Parliament about this and will continue to do so.  We can also expect ongoing road works on Rugby Road as Thames Water contractors lay a  pipe to take biogas from the works to link to the main gas pipes. |
| | |
| --- | --- |
| | Yet another leasehold management saga, this time at Brentford Lock, about First Port, the national firm of managing agents about which I've had previous complaints from leaseholders in other blocks.  I met Brentford Lock leaseholders who told me how they are faced with unannounced service charge hikes without adequate documentation and building managers that don't do basic maintenance such as repairing lighting and lifts. I put them in touch with Leasehold Knowledge Partnership and the National Leasehold Campaign, and will add their voice to the many others locally when I next get an opportunity to raise the failure of the leasehold system with Ministers.  |
| | |
| --- | --- |
| | With more and more local people unable to afford to buy food, Rowan Joyce at South Street cafe has started a food bank where anyone can pick up basics from the shelf just inside the door.  To fund this work, Rowan and a team of volunteers have set up a charity shop in a space provided by Sunvil Travel just across the road, where I cut the ribbon at the grand opening. |
| | |
| --- | --- |
| | Constituents tell me they want better Neighbourhood Policing, and regret the almost halving of the local neighbourhood teams under the Tory cuts of ten years ago. I was really glad that the new Met Commissioner Mark Rowley has included neighbourhood policing among his key strategic aims (along with rebuilding the trust of Londoners, and responding to crime).  I met Chief Inspector Anthony Bennett who is responsible for neighbourhood policing across the 3-borough command to discuss the local challenges and opportunities.  They are now recruiting police officers and PCSOs and really want to see more applicants from across London's different communities.  |
| | |
| --- | --- |
| | Borough Fire Commander Peter Clarke and I met to discuss the key fire risks locally. It was good to hear that Hounslow has relatively few serious fires, however grass fires during hot dry spells became a new threat this summer. This has led to the need to purchase specialist equipment and suits and focus on education as too many of the local fires were set deliberately.  I was glad to hear that all high-rise residential blocks are regularly inspected and their owners are told of the fire risk and the mitigation needed. |
| | |
| --- | --- |
| | The Jain Community in Hounslow has been raising funds and volunteering for Hounslow Community Foodbox. At their Oshwal Centre in Hounslow I was delighted to receive their cheque for £5000 to pass on to Foodbox |
| | |
| --- | --- |
| | I sponsor Brentford FC Manager Thomas Frank's kit, which entitled me to a tour of the new stadium. It was brilliant to be able to sit in the dressing room, the press room, and to walk out through the tunnel. And of course, to hold the replica Championship play-off final winners' cup! |
| | |
| --- | --- |
| | Our Barn is a wonderful local organisation that runs community-based skills and social activities for local young people with learning disabilities or autism.  Their 10 year anniversary gala dinner gave us all a chance to dress up, and I was delighted to receive a "Runner Bean" award for my London Marathon Fundraising |
If you need my support or help please email me: ruth@ruthcadbury.org, or phone: 020 8581 3646 or Write: Ruth Cadbury MP House of Commons, London SW1A 0AA. Let us have a quick summary of the issue,  and include your address as I am only able to directly assist my constituents.  Please also include relevant reference numbers.
I hold regular surgeries, usually on Fridays, which can be in person, on-line or by phone; please contact my office to make an appointment. However many issues can be dealt with more quickly by email or a phone call which saves waiting for the next available surgery.
For my Diary and Parliamentary Office email ruthcadburymp@parliament.uk 020 219 8590