Report back of Ruth's activities over the last month
MP's UPDATE FOR BRENTFORD AND ISLEWORTH RESIDENTS June 2023
You can find previous reports of my work on my web site; www.ruthcadbury.co.uk I also report regularly on my Facebook page and via Twitter and Instagram @RuthCadbury.
If you would like to raise issues with me as your MP Please email on ruthcadburymp@parliament.uk with your address, a quick summary of the issue (and relevant reference numbers).
See my Web page for information on local and national services.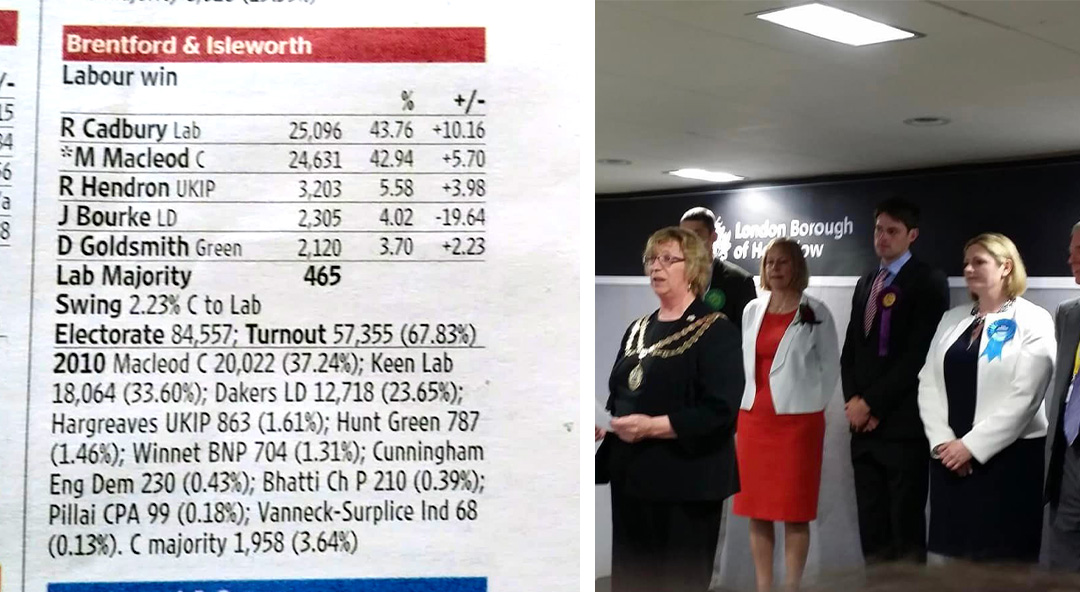 It has been eight years since I had the honour of being elected to serve as the MP for Brentford & Isleworth.
Since then we've seen the Conservative Government push the limits of our unwritten constitution, ignore the decisions of the highest court, and they are now refusing to comply with requests for records of conversations by the inquiry set up by …. the Government.
Currently the Commons is relatively quiet, as so much bad and badly drafted legislation is stuck in the Lords while they amend key elements of the Retained EU Law Bill, The Strikes (Minimum Service levels) Bill and the Illegal Migration Bill. Defeats of the Government in the Lords, led by Labour and cross-bench peers, are helped by Tory peers who disagree with their Government, but cannot be "whipped" to follow a party line. When these amendments come back to us in the Commons the Tory majority here defeats them, and back to the Lords they go. This process of "ping-ponging" carries on until either the Lords or the Government "blinks". These delays mean the Government is introducing no further significant legislation, yet much is urgently needed and overdue, such as the Transport Bill to reform the railways and improve road safety, and the now shelved Animal Welfare bill.
Hospital Building Programme – going nowhere
At the end of May the Health Secretary announced that local hospital building programmes will no longer get the funding they so desperately need. Charing Cross, Hammersmith and St Mary's hospitals are all in need of extensive work and in St Mary's case - rebuilding - to make them safe and fit for purpose. They were expecting to benefit from the Government's promise to "rebuild 40 hospitals" – which actually meant extensions or refurbishment of existing hospitals in many cases. But just £20bn has been allocated nationally of the £35bn needed for the "new hospital programme" nationally, and our three hospitals will continue to crumble.
MY PARLIAMENTARY ACTIVITY in MAY
For full details of my questions and speeches in Parliament, get regular updates about my Parliamentary activities TheyWorkForYou (votes) or see Hansard (speeches) & on YouTube
In the Chamber I;
Raised the concerns of Armenian constituents of the blockade of the Lachin corridor cutting off the Artsakh enclave within Azerbaijan.

Demanded better EV charging infrastructure on our road system to encourage more residents and businesses to buy EVs.
Challenged the Government on its proposal to water down housing standards for Asylum Seekers, so the worst private landlords could be putting vulnerable families at serious risk.
Raised the impact that fixed-term energy contracts are having on pubs and other businesses - and asked how the Government will protect small businesses trapped in these contracts.
Spoke about the impact of leasehold law on constituents with high service charges, rising building insurance costs, management issues, lack of action on repairs and building safety faults. I voted in support of Labour's motion calling for leasehold reform.
Spoke in a debate with several West London MPs on Heathrow Expansion. I pointed out that increasing flights on the existing two runways is a more imminent and likely threat than a third runway. I raised constituents' concerns around air pollution, congestion and noise.
Criticised the Government for the non-appearance of the Animal Welfare Bill, over two years since the consultation ended, and which would ban trade in furs and more.
Asked why the number of charges for domestic abuse and violence has not just failed to keep pace with the rise in reported offences but has gone so dramatically backwards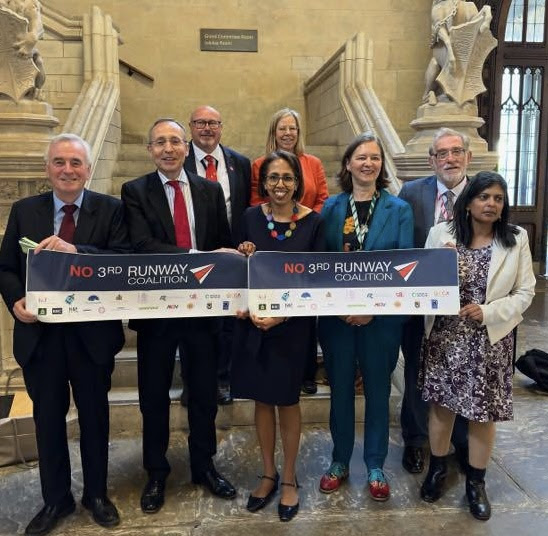 | | |
| --- | --- |
| | The Strand on the Green/Brooks Road footbridge was NOT closed for replacement (see my May update) as announced at short notice by Network Rail. It is used by so many of the area's residents for the school run and daily commute, and I was alerted by parents at the school about its imminent closure. I told Hounslow Council who had not been informed and wrote to Network Rail expressing my concern about the lack of communication and asked about the design, to see if there could be a more accessible replacement. Network Rail let me know they have paused the works, but not for how long nor what they are going to replace this bridge with. |
I had a busy weekend celebrating the King's coronation attending community parties in Isleworth, Brentford, Chiswick, with the Ahmadiyya community in Hounslow and a week later with the Polish Community at Lampton Park.
To celebrate the completion of the Chiswick to Hammersmith section of the C9 segregated cycle path Hounslow Council with Cycle Sisters and Hounslow Cycling Campaign organised a community day in Chiswick with a cycle ride to Hammersmith along C9. I have also had a chance to meet up with officers from Transport for London to discuss how it's working.
| | |
| --- | --- |
| | Hounslow's secondary school head teachers invited Seema Malhotra and I to hear about the challenges they face. These include the recruitment and retention of teachers due to the inadequate pay levels, and the higher salaries available in alternative careers, not helped by the Government's negative comments about teachers. They also told us of the need for adequate mental health and welfare support in schools, a shake-up of the OFSTED grading system and that T-levels are not fit for purpose. |
| | |
| --- | --- |
| | With West London Welcome I met asylum seekers living in hotels locally and shared food and stories with them. Many have been housed for well over a year in overcrowded hotel rooms, and with small children who have nowhere to play. In the chamber I asked the Government to address the backlog, something their Illegal Migration Bill will only make worse. |
| | |
| --- | --- |
| | I met managers and owners of a number of local businesses including; the Whistling Oyster in Chiswick, Bertolucci's coffee bar in Isleworth and the Castle pub in Isleworth, now under new management. I was able to present Sam Christmas, a Fullers' apprentice at the Hare and Hounds in Osterley, with his certificate of achievement. Whilst Fullers have great opportunities for staff apprenticeships, the Government need to do better to address the shocking skills gap in the UK. |
| | |
| --- | --- |
| | I visited West Middlesex Hospital and saw the ambulatory emergency care centre – which enables many patients to be treated or assessed during the day and go home at night – thus saving thousands of bed-spaces in the hospital and the NHS £millions. I then met some of the gynaecology team who showed me the early pregnancy screening unit and heard from West Mid NHS staff impacted by the menopause. The visit enabled me, on behalf of my constituents, to thank all those who work at the hospital for their tireless dedication to our health and welfare. |
| | |
| --- | --- |
| | Isleworth resident Eileen Sheridan was an incredible record-breaking cyclist in the 40s and 50s – five of her records are still to be beaten. She died in February aged 99 and at a service at All Saints church we celebrated her varied life, not only her phenomenal sporting achievements, but also her active involvement with the Isleworth Society |
| | |
| --- | --- |
| | A few months ago I met Ian Wardle, the new Chief Executive of housing association A2Dominion – one of several large HAs with a terrible record of neglect of their local blocks of flats and poor treatment of the tenants and leaseholders living in them. Ian told us he is committed to turning the organisation round – and I met some of his staff with Cllr Rhys Williams, at Trico House on the Great West Quarter estate in Brentford. It is noticeable that councillors and my team have seen a noticeable drop in the number of complaints about A2D particularly from those blocks, which I hope is a sign the changes at A2D are having an effect – lessons for the other large HAs operating locally? |
| | |
| --- | --- |
| | OWGRA (Osterley & Wyke Green Residents Association) heard from our area police commander Ch Supt Sean Wilson at their AGM. He described the changes taking place in the Metropolitan Police to improve their services to the people of London. Residents expressed their concerns, that I share, that the Met needs to improve their response to burglaries, address anti-social behaviour, and have great community presence. As I have said in previous updates, we are watching this space. |
| | |
| --- | --- |
| | Wellington Day Centre held their annual Vaisakhi celebration with songs and poems in Punjabi and Hindi, including a number of very old Bollywood songs! |
| | |
| --- | --- |
| | I was delighted to present Torron-Lee Dewar with a Points of Light award from the Prime Minister, "in recognition of your exceptional service creating "Alliance Arts"". Torron, from Brentford founded Alliance Arts 12 years ago, and his team have trained hundreds of local young people, who have often had few alternative outlets. Many of them have gone on to work in the arts and sports worlds (including playing for Brentford FC!). We need more affordable opportunities such as this for young people in West London, but sadly there is not enough funding available since the Osborne era austerity cuts. |
With best wishes to all readers – and do let me know what you think of these updates!
If you need my support or help please email me: ruth@ruthcadbury.org, or phone: 020 8581 3646 or Write: Ruth Cadbury MP House of Commons, London SW1A 0AA. Let us have a quick summary of the issue, and include your address as I am only able to directly assist my constituents. Please also include relevant reference numbers.
I hold regular surgeries, usually on Fridays, which can be in person, on-line or by phone; please contact my office to make an appointment. However many issues can be dealt with more quickly by email or a phone call which saves waiting for the next available surgery.
For my Diary and Parliamentary Office email ruthcadburymp@parliament.uk 020 219 8590
Printed from an email sent by Ruth Cadbury MP {domain.address}